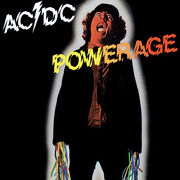 Powerage is the fifth studio album by Australian hard rock band AC/DC, released in May 1978. It is also AC/DC's fourth international studio album. All songs were written by Angus Young, Malcolm Young, and Bon Scott.
It was originally released on Atlantic Records, and reached #133 on Billboard's Pop Albums chart in the US, eventually going platinum, selling more than one million copies. The album was re-released in 2003 as part of the AC/DC Remasters series.
Powerage is the first AC/DC album to be released nearly simultaneously in both Australian and international markets, and the first to use just one cover image for both. It was also the first to feature the same track listing on all versions, with the exception of the European vinyl edition. This version included Cold Hearted Man, a song that has not been officially released on any other AC/DC album, but which became more widely available through the box set of Bon Scott-era vinyl LP albums in 1987, the first reissue of a set first released in 1981. Within the 1987 box set, the song was packaged on a single sided 12" single. In some territories, Powerage omitted "Rock 'n' Roll Damnation".
"Sin City" was covered by the 80s Heavy metal band Twisted Sister, on their album Twisted Forever, in which Dee Snider changes a lyric: "Ain't got a hope in hell, that's Bon Scott's belief." The song has also been covered by the punk rock band The Offspring, and Bruce Dickinson.
"Gone Shootin'" was featured in the movie Beavis and Butt-head Do America. In 2007, a studio version of the song, with Brian Johnson on vocals, was included on the second disc of Plug Me In. The footage was taken from a recording session in 1996 at London's VH1 Studios.
Powerage marked the studio debut of bassist Cliff Williams. It was the band's last Bon Scott-era studio release to feature production work by Harry Vanda and George Young.
Track Listing
Edit
"Rock 'n' Roll Damnation" – 3:37
"Down Payment Blues" – 6:03
"Gimme a Bullet" – 3:21
"Riff Raff" – 5:11
"Sin City" – 4:45
"What's Next to the Moon" – 3:31
"Gone Shootin'" – 5:05
"Up to My Neck in You" – 4:13
"Kicked in the Teeth" – 4:03
Some cassette copies, such as the original Canadian issue had an alternate track listing. For example, "Sin City" was the first song on side 1, while "Rock 'n' Roll Damnation" was the first song on side 2. All other tracks appear in the order of the original Australian/US release.
Personnel
Edit
Bon Scott – lead vocals
Angus Young – lead guitar
Malcolm Young – rhythm guitar, backing vocals
Cliff Williams – bass guitar, backing vocals
Phil Rudd – drums
Production
Edit
Producers: Harry Vanda, George Young
Engineer: Mark Opitz
Management: Michael A. Browning
Community content is available under
CC-BY-SA
unless otherwise noted.