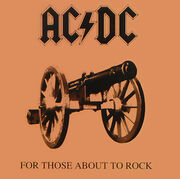 For Those About to Rock We Salute You is the eighth album by Australian hard rock band AC/DC, released in 1981. The album was a follow-up to their highly successful album Back in Black. For Those About to Rock has sold over 4 million copies in the US. It was AC/DC's first and only No. 1 album in the USA until the release of Black Ice in October 2008. In their review, Rolling Stone magazine declared it to be their best album.
The album was the third and final produced for the band by Robert John "Mutt" Lange. The name of the album was inspired by a book Angus Young read, entitled For Those About To Die, We Salute You, about Roman gladiators. The gladiators' final words to the emperor were "Ave Caesar morituri te salutant" - or, "Hail Caesar, we who are about to die, salute you." The album was re-released in 2003 as part of the AC/DC Remasters series.
Track Listing
Edit
Recorded in a rehearsal space on the outskirts of Paris. The band had found it difficult to come up with their desired sound while on their previous rehearsing location (an abandoned factory in France). The album became AC/DC's first US No. 1 album. After its release the band embarked on its first arena tour of North America (late 1981 through early 1982). For the title track, large cannons were placed on stage, set to go off in accordance with the song on the album. In Spain, early copies of the album featured a sleeve with the colours reversed, i.e., a gold cannon on a black background. The title track's popularity was such that in every live concert AC/DC has done thereafter, the song is performed as an encore and is always accompanied by firing cannons on stage. It was re-released in 2003 in CD format as part of the Remasters series. That edition consisted of digitally remastered material from the original masters.
In the video game Guitar Hero II, the Gibson SG's description has a line which reads: "For those about to rock, we... give you the Gibson SG".
On Nintendo's website, the ad for the Wii version of Guitar Hero III: Legends of Rock states "For those about to rock, Wii salute you".
In the movie School of Rock, Jack Black says to the class: "In the words of AC/DC: We roll tonight... to the guitar bite... and for those about to rock... I salute you"
The album was referenced by Beastie Boys on their 1989 single "Shadrach."
For Those About to Rock was also the name of a movie including live performances by AC/DC, as well as Metallica, The Black Crowes, and Pantera.
Band Personnel
Edit
Brian Johnson - lead vocals
Angus Young - lead guitar
Malcolm Young - rhythm guitar, backing vocals
Cliff Williams - bass, backing vocals
Phil Rudd - drums, percussion