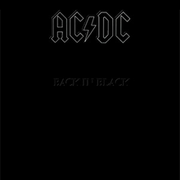 Back in Black is the 7th studio album by Australian hard rock band AC/DC, released on July 25, 1980. Back in Black was the first AC/DC album recorded without former lead singer Bon Scott, who had died at the age of 33 on February 19, 1980. The band considered disbanding following Scott's death, but ultimately decided to continue and shortly thereafter hired Brian Johnson as their new lead singer and vocalist. Producer Robert John "Mutt" Lange, who had previously worked with AC/DC on Highway to Hell, was again brought in to produce.
The album was remastered and re-released first in late 1994, then again in the Bonfire box set in 1997, and as part of the AC/DC Remasters Series in 2003. In addition, a Dualdisc version was released in 2004, featuring the album in enhanced LPCM Stereo format and the video documentary The Story of Back in Black. On December 13, 2007, the RIAA certified it 22.00× Multi Platinum, recognising 22 million shipments throughout the United States & worldwide has sold an estimated 42 million copies - making it second only to Michael Jackson's Thriller as the best-selling album of all-time.
Back in Black contains some of AC/DC's biggest hits, including "Hells Bells", "You Shook Me All Night Long", and the title track "Back in Black." According to Angus Young the album's all-black cover was a "sign of mourning" for Scott, as black is the traditional Western colour of mourning. It is AC/DC's best selling album, the second best-selling album of all time, and the biggest selling album by any band, with more than 42 million copies sold worldwide.[4] In 2006 Back in Black was certified by the Recording Industry Association of America as the fifth best-selling album in the United States, with 22 million copies sold.[5] Despite its massive commercial success, it is not AC/DC's highest charting album in the U.S, peaking at #4; their next album, For Those About to Rock We Salute You, hit #1 in 1981.[6] In 1989, it was ranked #26 on Rolling Stone magazine's list of The 100 Greatest Albums of the 80's. In 2003, the album was ranked number 73 on Rolling Stone magazine's list of the 500 greatest albums of all time.[7] VH1 named 'Back in Black' as one of the biggest comeback albums of all time.
All songs written by Angus Young, Malcolm Young, and Brian Johnson.

"Hells Bells" – 5:12
"Shoot to Thrill" – 5:17
"What Do You Do for Money Honey" – 3:35
"Givin' the Dog a Bone" – 3:32
"Let Me Put My Love into You" – 4:15
"Back In Black (song)" – 4:15
"You Shook Me All Night Long" – 3:30
"Have a Drink on Me" – 3:59
"Shake a Leg" – 4:06
"Rock N' Roll Ain't Noise Pollution" – 4:15
It should be noted that "Givin' the Dog a Bone" was originally spelled "Given the Dog a Bone."
Band Personnel
Edit
Brian Johnson — lead vocals
Angus Young — lead guitar
Malcolm Young — rhythm guitar, backing vocals
Cliff Williams — bass guitar, backing vocals
Phil Rudd — drums, percussion
Production
Edit
Rrt John "Mutt" Lange — Producer
Benji Armbrister — Assistant Engineer
Bob Defrin — Art Direction
Robert Ellis — Photography
Bob Ludwig — Mastering (original LP)
Barry Diament — Mastering (originl CD releases)
Ted Jensen — Remastering (EMI/Atco reissue)
George Marino — Remastering (Epic reissue)
Tony Platt — Engineer
Brad Samuelsohn — Mixing
Jack Newber — Assistant Engineer
Community content is available under
CC-BY-SA
unless otherwise noted.