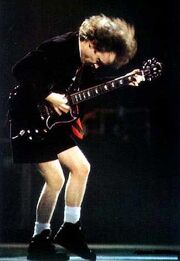 Angus McKinnon Young was born on March 31st, 1955, in Glasgow, Scotland. At the age of 8, in 1963, he emigrated to Australia. His first guitar was an old banjo he restrung like a guitar.
His first real guitar was an Hofner guitar he inherited from Malcolm Young, his brother. George Young, his other older brother, taught Malcolm and Angus guitar on his breaks from touring with his band, the Easybeats.
Formation of AC/DC
Edit
Prior to forming AC/DC, Young played in a local group called Kantuckee. Kantuckee's lineup included Bob McGlynn (vocals), Angus Young (guitar), Jon Stevens (bass) & Trevor James (drums). This was the first band to record Demo takes for Stevie Wrights classic "Evie" at the request of George Young. The band split and was later called Tantrum with the following line up: Mark Sneddon (vocals-guitar), Angus Young (guitar), Jon Stevens (bass) and Trevor James (drums).. He was 18 when he and his 20 year old brother Malcolm formed AC/DC in 1973 with Angus on lead guitar, Malcolm on rhythm guitar, Colin Burgess on drums, Larry Van Kriedt on bass guitar and Dave Evans on vocals. Can I Sit Next To You Girl, their first single, was later re-recorded with Bon Scott as their vocalist. Many say they got the name AC/DC after seeing the letters "AC/DC" on the back of a sewing machine owned by their sister, Margaret. Others credit the name to George Young's wife, Sandra.[3] Angus tried a number of stage costumes, such as Spider-Man, Zorro, a gorilla, and a parody of Superman, named Super-Ang,[4] before settling on his signature schoolboy look. To match this image the press and public were told that Young was born in 1959, not 1955. The original uniform was from his secondary school, Ashfield Boys High School in Sydney. By 1973, Angus had long left school. His sister Margaret suggested he wear the uniform after Malcolm asked each band member to come up with their own gimmick.
Personal life and recent events
Edit
Although Young prefers to keep his life private and out of the media, it is known that he lives in Kangaroo Point in the Sutherland Shire, in Sydney, Australia[5] and also has a home in Aalten, Netherlands where his wife grew up.[6] Young married his Dutch wife, Ellen, in 1980 shortly before Bon Scott died at the age of 33 after a night of heavy drinking in London. Although a smoker, Angus is a well-known teetotaller.[citation needed]
On 24 August 2006, Young received Kerrang! magazine's Legend Award from the editor, Paul Brannigan. Brannigan called AC/DC "one of the most important and influential rock bands in history".[7]
Equipment
Edit
[1]
Young performing live in 2001 on the
Stiff Upper Lip
tour in Germany===Guitars===
Angus Young has used Gibson SGs in various forms (his original, and the basis for his current signature model, was a 1970-72 SG) throughout his career. Angus also uses a Gibson 1991 SG Junior. With his various SGs Angus also uses a 1962 Gibson Les Paul (SG). He also used a modified version of the SG called the Jaydee SG, which was made custom for Angus by Jaydee guitars.[8] The Jaydee SG featured signature lightning bolt inlays on the fretboard. Gibson made a custom SG for Angus with lightning bolt inlays to replace the Jaydee SG. He is rarely seen with another guitar, though he also owns Fender Telecasters, Gibson Firebirds and ES-335s. When AC/DC played a jam of "Rock me Baby" with the Rolling Stones in 2003, he played a Gibson ES-355 borrowed from Keith Richards, perhaps one of the few times he was without an SG onstage. Young's 1970 SG has T Top pickups. Another 1964 SG that he used on the recording of Ballbreaker, has patent # pickups. All of these are vintage-output Alnico II or V pickups with matched coils typically reading 7.5k ohm. All of his pickups "...are the original ones that came on the guitar(s)." Angus uses Ernie Ball SUPER SLINKY Nickel Wound guitar strings (RPS-9 being gauges .009-.042). He uses fender extra heavy pics[9]
Angus Young Signature SG
Edit
Angus Young and Gibson Guitar Corporation have collaborated to make the Angus Young Signature SG, which is special in several ways.[10]
The model features a pickup designed by Young himself (the Angus Young Signature Humbucker) in the bridge position, and a '57 Classic Humbucker in the neck. The headstock features Young's famous "devil schoolboy" engraved picture, and the tremolo bar features Angus's name instead of the Gibson logo. The guitar has a rosewood fretboard, trapezoid fret inlays, a signature black pickguard, 22 frets, antique cherry finish,[11] and nickel hardware. The volume and tone knobs are of the "tophat" style, the SG also sports the standard 3-way pickup selector switch. This signature model is unique in that Angus himself does not use his signature model either live or in the studio anymore, although when AC/DC was young he played the same model but without his signature touch. (devil schoolboy, engraved tremolo tailpiece, signature pickup.)
The second, recently released Angus Young SG, is available in two variants, both which are different from the first. The Gibson Custom Shop version is based on a 70's SG Standard, it features genuine pearl lightning bolt inlays instead of the standard plastic trapezoidal inlays. It has no Maestro Tremolo, and Seymour Duncan Pearly Gates Humbuckers (modified in the bridge position); it has 22 frets and an Aged Cherry finish. The fretboard is made from ebony and the most unusual feature compared to other SGs is that the very thin neck is constructed from maple. This model also for a limited time can be bought aged by Gibson USA and signed by Angus Young himself although the Gibson USA version cannot.
The lower cost Gibson USA variant is based on a 1960's SG Reissue, featuring a smaller pickguard. It too has lightning bolt inlays, though smaller and made from plastic, and '57 Classic in neck position and an Angus Young Signature Humbucker pickup in bridge position. It is available only in Ebony.
Amplifiers
Edit
Young mainly uses the Marshall model 1959 100 watt Super Lead Plexi (reissued as the SLPX with the X denoting added, but bypassable features.) heads and model 1960 AX and BX 4x12 cabinets loaded with Celestion G12M "Greenbacks".[12] He also used Celestion G12Hs, and even Vintage 30s (only recent years, on stage)
Influence
Edit
Angus Young has stated that he first began playing guitar when, "I was little, teeny. I would sort of dabble around five or six years old. That's when I started hearing Little Richard."[13]
Young's energetic guitar style has been an influence on many young rock n roll guitarists. When Canadian band ANVIL were asked what it was like to tour with AC/DC, they mentioned that Angus Young has a "big heart."
In an interview with The Guitar Show, Angus noted his influences to include his brother Malcolm Young, Chuck Berry and Freddie King, while playing licks relating to Jimi Hendrix, John Lee Hooker and The Kinks "You Really Got Me".[14] Young has indicated that he was also influenced by Keith Richards,[13] as well as Chuck Berry's style, including his banter with audiences, guitar playing and duck walk.[15] When the band would cover Chuck Berry songs in their early years, audiences would recognise the song, while noting their renditions were very different to the source material.[15]
Angus Young's playing style is very straight blues playing in both the minor and major pentatonic twelve bar blues. His style is spiced by additional non-blues tricks. In AC/DC's earlier recordings, power chords can be heard in songs such as "T.N.T." and "It's a Long Way to the Top (If You Wanna Rock 'n' Roll)". He also utilises touches of Scottish folk in his playing, and pull-off arpeggios (pull-offs, played one-handed) are a popular trick, appearing in songs such as "Who Made Who", "Dirty Deeds Done Dirt Cheap", "Sin City", "Let There Be Rock" (live) and "Thunderstruck". In 1976, the band recorded an instrumental arrangement of the Scottish traditional song "Loch Lomond", retitled "Fling Thing", which has appeared in their stage act over the years. The title refers to the Highland Fling.
Young also provides backing vocals along with Malcolm and bassist Cliff Williams on songs such as "T.N.T." and "Dirty Deeds Done Dirt Cheap".
A common criticism of AC/DC is that their songs are excessively simple and formulaic. In reply, Young stated in an interview with the Atlanta Gazette in 1979:
| | | |
| --- | --- | --- |
| " | It's just rock and roll. A lot of times we get criticised for it. A lot of music papers come out with: 'When are they going to stop playing these three chords?' If you believe you shouldn't play just three chords it's pretty silly on their part. To us, the simpler a song is, the better, 'cause it's more in line with what the person on the street is. | " |
Stage antics
Edit
[2][3]Angus Young onstage antics at Scotiabank Place in Ottawa 2009Angus Young is famous for his wild onstage antics: intense jumps and running back and forth across the stage while playing his guitar. Young would clamber on to Bon Scott's or Brian Johnson's shoulders during concerts and they would make their way through the audience with smoke streaming from a satchel on his own back, while he played an extended improvised guitar solo, usually during the song "Rocker"[16] with Scott or during "Let There Be Rock" with Johnson. On the Live at Donington DVD Angus can be seen riding on the top of Brian Johnson's shoulders during Let There Be Rock, and also in Portland, Oregon on the "We Salute You Tour" in 1982.[citation needed] When performing live he frequently uses a Chuck Berry move, which involves hopping on one leg while bringing the other one up and down (called the Duck Walk).

[4][5]Angus Young onstage antics at Scotiabank Place in Ottawa 2009Also when live he performs his "spasm" (usually during the extended solo for "Let There Be Rock" on top of a rising platform at the end of the "catwalk" on the stage), during which he throws himself to the ground, kicking, shaking, and spinning in circles, while playing the guitar. Both moves can be seen on various videos, such as Live At Donington.[17] Young developed the "spasm" while he was playing live in a small club in Australia, after he accidentally tripped over a cable on stage while playing his solo. He covered it up by having a seizure-like "spasm" on stage to make it seem like part of the act. It has been a trademark of his ever since. Angus Young also performs "the bob". In the bob, he headbangs while tapping his feet. He taps his right foot twice when headbanging up, and his left foot twice when headbanging down. This is his general rhythmic movement while performing.
Other gimmicks employed by Young include his strip act, which can be seen during "Bad Boy Boogie" on the most definitive live concert footage Let There Be Rock (1980). It is also viewable in during "Jailbreak" on the 1991 Live at Donington DVD, during "Boogie Man" on No Bull, during "Bad Boy Boogie" on Stiff Upper Lip Live and during "The Jack" on the Black Ice tour. And sometimes when he "strips" he will pull down his shorts, revealing his undergarments, often decorated with the flag of the country in which the concert takes place or with "AC/DC" printed on it as shown in the Black Ice World Tour, then pulls them up and sometimes moons the crowd. Sometimes he would use his fingers to perform his devil horns act—usually before playing "Highway to Hell" or "Hell Ain't a Bad Place to Be" - whether being on stage or having his picture taken by the press (during the Black Ice tour and others Angus would also rise from under the stage in a cage wearing a pair of devil horns stepping out to play "Highway to Hell"). AC/DC appeared in "Private Parts" a movie based on Howard Stern's book about his life and early career, and they are frequent guests on his radio show.[
Community content is available under
CC-BY-SA
unless otherwise noted.