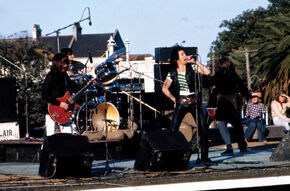 AC/DC is an Australian hard rock band formed in Sydney, Australia in November 1973 by brothers Angus and Malcolm Young. Although the band are considered pioneers of hard rock and heavy metal, its members have always classified their music as "rock 'n' roll".
AC/DC had several line-up changes before they released their first album, High Voltage, in 1975. Membership remained stable until bassist Cliff Williams replaced Mark Evans in 1977. In 1979, the and recorded their highly successful album Highway to Hell. Lead singer and co-songwriter Bon Scott died on February 19, 1980, after a night of heavy alcohol consumption. He was 33 years old. The group briefly considered disbanding, but soon ex-Geordie singer Brian Johnson was selected as Scott's replacement. Later that year, the band released their best selling album, Back in Black.
The band's next album, For Those About to Rock We Salute You, was also highly successful and was their first album to reach number one in the United States. AC/DC declined in popularity soon after the departure of drummer Phil Rudd in 1983. Poor record sales continued until the release of The Razors Edge in 1990. Phil Rudd came back to the band in 1994 and contributed to the band's 1995 album Ballbreaker. The album Stiff Upper Lip was released in 2000 and was well-received by critics. The band's new album Black Ice, their first album to reach number one in the U.S. since 1981's For Those About to Rock We Salute You, was announced in 2004 and was released on 20 October 2008.
AC/DC have sold over 200 million albums worldwide, including 69 million albums in the US. Back in Black has sold an estimated 42 million units worldwide and 22 million in the US alone, making it the fifth highest-selling album ever in the US. AC/DC ranked fourth on VH1's list of the "100 Greatest Artists of Hard Rock" and the seventh "Greatest Heavy Metal Band Of All Time" by MTV. In 2004, the band was ranked number 72 in the Rolling Stone list of the 100 Greatest Artists of All Time.
Background
Edit
Brothers Malcolm, Angus and George Young were born in Glasgow, Scotland, and moved to Sydney with most of their family in 1963. George was the first to learn to play the guitar. He became a member of the Easybeats, one of Australia's most successful bands of the 1960s. In 1966, they became the first local rock act to have an international hit, with the song "Friday on My Mind". Malcolm followed in George's footsteps by playing with a Newcastle, New South Wales, band called the Velvet Underground (not to be confused with the New York–based Velvet Underground).
Malcolm and Angus Young developed the idea for the band's name after their older sister, Margaret Young, saw the initials "AC/DC" on a sewing machine. "AC/DC" is an abbreviation for "alternating current/direct current". The brothers felt that this name symbolised the band's raw energy, power-driven performances, and a love for their music. "AC/DC" is pronounced one letter at a time, though the band is popularly known as "Acca Dacca" in Australia.
Early Years
Edit
In November 1973 Malcolm and Angus Young formed AC/DC and recruited bassist Larry Van Kriedt, vocalist Dave Evans, and Colin Burgess, ex-Masters Apprentices drummer. The band played their first gig at a club named Chequers in Sydney on New Year's Eve, 1973. They were later signed to the EMI-distributed Albert Productions label for Australia and New Zealand by label founder Ted Albert. The early line-up of the band changed often; Colin Burgess was the first member fired, and several bassists and drummers passed through the band during the next year.
By this time, Angus Young had adopted his characteristic school-uniform stage outfit. The idea was his sister Margaret's. Angus had tried other costumes, such as Spider-Man, Zorro, a gorilla, and a parody of Superman, named Super-Ang. In fact in its early days, most members of the band dressed in some form of glam or satin outfit but this approach was abandoned when it was discovered Melbourne band Skyhooks had already adopted this approach to their stage presentation.
The Young brothers decided that Evans was not a suitable frontman for the group, because they felt he was more of a glam rocker like Gary Glitter. On stage, Evans was occasionally replaced by the band's first manager, Dennis Laughlin, who was the original lead singer with Sherbet prior to Daryl Braithwaite joining the band. Evans did not get along with Laughlin, which also contributed to the band's ill feeling toward Evans.
The Bon Scott Era
Edit
In September 1974 Ronald Belford "Bon" Scott, an experienced vocalist and friend of George Young, replaced Dave Evans. Like the Young brothers, Scott had been born in Scotland before emigrating to Australia in his childhood. The band had recorded only one single with Evans, "Can I Sit Next to You, Girl" / "Rockin' in the Parlour"; eventually, the song was re-recorded with Bon Scott as "Can I Sit Next to You Girl" (Track 7 on the Australian album T.N.T., and Track 6 on the international release of High Voltage). By January 1975, the Australia-only album High Voltage had been recorded. It took only ten days and was based on instrumental songs written by the Young brothers, with lyrics added by Scott. Within a few months, the band's line-up had stabilised, featuring Scott, the Young brothers, bassist Mark Evans and drummer Phil Rudd. Later that year they released the single "It's a Long Way to the Top (If You Wanna Rock 'n' Roll)", which became their perennial rock anthem. It was included on their second album, T.N.T., which was also released only in Australia and New Zealand. The album featured another classic song, "High Voltage". Between 1974 and 1977, aided by regular appearances on Molly Meldrum's Countdown, the ABC's nationally broadcast pop-music television show, AC/DC became one of the most popular and successful acts in Australia. Their performance on 3 April 1977 was their last live TV appearance for more than 20 years.
Community content is available under
CC-BY-SA
unless otherwise noted.